Parade Midwinterfestival
Kerstspelletjes
Concours Hippique
Onderlinge wedstrijd
Kiona en Caesar weer op Schier!
Yvonne geeft 12,5 jaar les op de vereniging

Parade Midwinterfestival (28 december 2007)
Helaas geen verslag!
============================================================================
Kerstspelletjes (22 & 23 december 2007)
Ook dit jaar werd de laatste lesdag van het jaar afgesloten met spelletjes en andere leuke activiteiten. Zowel op zaterdag als zondag is het weer een geslaagde dag geworden. Hieronder een verslag van Rachel & Marije en een een verslag van zondag van Romy & Christy:
Spelletje dag op 22-12-2007
Op zaterdag 22 december hebben we een spelletjesdag gehad. Wij dachten, gaan we spelletjes doen maar nee hoor we gingen eerst vegen, zadels+hoofdstellen invetten etc. Toen we klaar waren met het schoonmaken van de stal gingen we poffertjes eten. Toen iedereen zijn poffertjes op had werd de groep in tweeŽn verdeeld. De wat oudere kinderen gingen stoelendans doen en de wat jongere kinderen gingen een quiz doen. Even later draaiden we dat om. Toen we daar klaar mee waren kregen we voor de tweede keer poffertjes. Op het laatst kreeg Yvonne nog een taart en een waardebon. We vonden het weer een geslaagde spelletjes dag!
Marije Dam
Zaterdag 22 december
Op zaterdag 22 december moest iedereen om half elf op de manege zijn. Veel kinderen hadden hun cap meegenomen, maar dat was niet nog want we gingen niks met de paarden doen. Maar toen alles klaar stond moesten we in de kring gaan zitten. De kring was van strobalen en springblokken gemaakt. Yvonne hing toen alles vertellen wat we gingen doen.

Toen in ťťn keer een kerstman aan kwam, met chocolade kransjes, lekker, lekker! En daarna nog een rondje met "maoam" snoepjes. Ze waren wel erg hard, toen kreeg Yvonne het niet doormidden. Toen gooide ze het terug in het bakje en pakte het weer op. Toen kregen Rachel, Josť en Yvonne helemaal de slappe lach. Toen de kerstman weg ging begonnen we met opruimen. We moesten om de manege vegen, boxen uitmesten, zadels invetten en hoofdstellen invetten. Oh ja ook nog de bak aanharken.

Daarna ging Yvonne de groepjes indelen. En om 12.00 uur gingen we poffertjes eten en wat drinken. Daarna gingen we stoelendans met strobalen en springblokken doen. Dat gingen de oudere kinderen doen, de jongere kinderen gingen een kennisquiz doen over paarden. Daarna gingen we ruilen, de jongere stoelendans doen en de oudere een kennisquiz. Daarna nog een paar poffertjes en de quizen nakijken. Het was een gezellige dag!
Rachel Seysener

Zondag 23 december 2007

Wij hebben spelletjes gedaan bij de stal.
Er waren 4 pony's, ze heten Fleur Anouk Rosa en Lucy.
Als eerste gingen we ringsteken. Daarna gingen we in groepjes.
De ene ging een quiz doen en de anderen gingen stoelendans doen.
Daarna kwamen we weer bij elkaar om poffertjes te eten, dat was erg lekker.
In de tussen tijd begon Henk Klopstra met bokje springen over een stropak.
Dat was zo'n succes dat we in lange rijen stonden te wachten om het zelf eens te proberen.
Even later kwam de kerstman nog en mochten we allemaal een chocolaatje.
Daarna ruilden we, nu ging de ene groep de quiz doen en de andere groep stoelendans doen.
Het was een ontzettend leuke dag!
Romy en Christy Harthoorn

Rachel, Marije, Romy en Christy bedankt voor het mooie verslag!============================================================================

Ringrijden

Dinsdagavond werd traditioneel het ringrijden georganiseerd.

En mochten er naast de springruiters van de wal ook de eilanders met eigen paard meedoen. Ook mochten de kinderen van het carrousel meedoen. Sommige deelnemers hadden zich leuk verkleed voor de gelegenheid. En bleek het vaak moeilijker te zijn om een ring te steken dan je denkt.

Uitslag ruiters

:

Menners:
1 Andre Schut 1 Jan & Ruurd Harthoorn
2 Marian Lunche 2 Halbe Hoekstra & Alice Visser
3 Wiske Pietersma 3 Schelte Wiertma & Marijon Visser

Concours Hippique
Door de weersomstandigheden en de natte velden is er besloten om het Concours Hippique door te laten gaan op een andere locatie. Dit jaar op het veld bij de Aisterbun, dit veld ligt wat hoger en is daardoor droger. Helaas waren er dit jaar geen Friesche tuigpaarden bij, omdat het veld te klein was.
Naast veel springrubrieken voor de ruiters van de wal mocht de Ruitervereniging twee mooie shows geven. Yvonne heeft weer een mooie proef bedacht met veel moeilijke figuren, en heeft samen met Rianne er passende muziek bijgezocht om het helemaal af te maken. Miranda, Anne en Sibel mochten meedoen aan het relaisspringen.

Catering
Ook dit jaar verzorgde onze club de catering op het concours, en konden de bezoekers en deelnemers onder het genot van een hapje en drankje naar de paardensport kijken.
Ook dit jaar heeft de catering goed gedraaid dankzij de vrijwilligers die de stand bemanden en heeft de club weer een leuke extraatje verdient. Het bestuur wil de vrijwilligers hiervoor hartelijk bedanken.


Wij wachten op een verslag van de kinderen!

Klik hier voor een leuke fotopresentatie
Foto's: Sietske Braaksma, Marjan Soepboer, Saskia Groenen & Susanna Klopstra


==============================================================================


Onderlinge wedstrijd (30-6-2007)

Proef B (A-B pony)

Zaterdag 30 juni 2007 hadden we een onderlinge wedstrijd.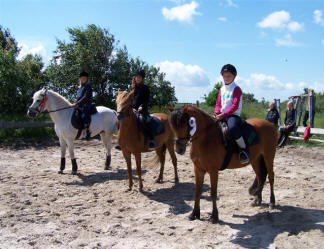 Om 10.00 uur moesten we de paarden uit het weiland halen.
Toen moesten we de paarden opzadelen en we mochten ze ook invlechten.
Toen iedereen klaar was konden we naar de buitenbak.
Daar moesten we eerst instappen.
Toen we waren ingestapt moesten we er allemaal uit behalve Brenda.
De andere kinderen moesten voor de bak op het veldje even verder stappen.
Na Brenda kwamen Rachel & Kirsten, daarna Monica & Jara, daarna Judith & Myrthe,
daarna Miranda & Joyce en als allerlaatst Laura & Desiree.
Toen iedereen geweest was konden we beginnen met de prijsuitreiking.
Rachel Seysener & Kirsten Smink
Uitslag: 1 Judith Visser met Carlo
2 Desiree Klabbers met Cleo
3 Myrthe Talsma met Cleo
Proef B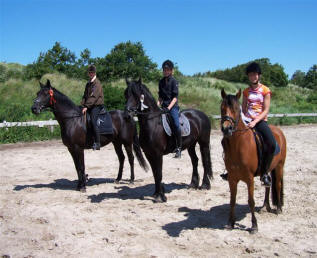 Wij hadden op zaterdag een onderlinge wedstrijd.
We werden op niveau ingedeeld in verschillen groepen.
Wij (Monique en Eline) moesten om 12 uur bij de buitenbak klaarstaan.
Sommige paarden waren wat onrustig en konden niet wachten.
Wij mochten de bak in we moesten met z'n tweeŽn het proefje rijden.
Ik zat op Hynte (mijn eigen paard) en Monique op Fleur.
Ik ging voorop en Monique reed achter mij, ze had wel wat moeite om mij bij te houden.
Want Hynte had enorme haast.
Het proefje ging best wel goed op een paar dingen na.
De rest (Marije Vera Rianne Myrte ) deden het ook heel erg goed.
Het was een hele leuke dag!
Eline Woudstra en Monique Ridder
Uitslag: 1 Marije Dam met Nora
2 Vera Harthoorn met Blomke & Moniek Ridder met Fleur
Proef L1 en L2
Op zaterdag 30 juni was er een onderlinge wedstrijd voor de zaterdaglessers.
Op clubpaarden of op eigen paarden,uit het werk geracet of gewoon rustig van thuis gekomen,iedereen was er.
De wedstrijd begon met de klasse B wat de laagste klasse is.
Nadat iedereen is was geweest van die klasse kwam de klasse L1,daar deden 2 kinderen aan mee.
Daarna kwam de klasse L2,daar deden ook 2 kinderen aan mee.
Iedereen kreeg een lintje,wat drinken,een zakje chips en niet te vergeten de proef die ze gereden hadden.
Het was een geslaagde dag.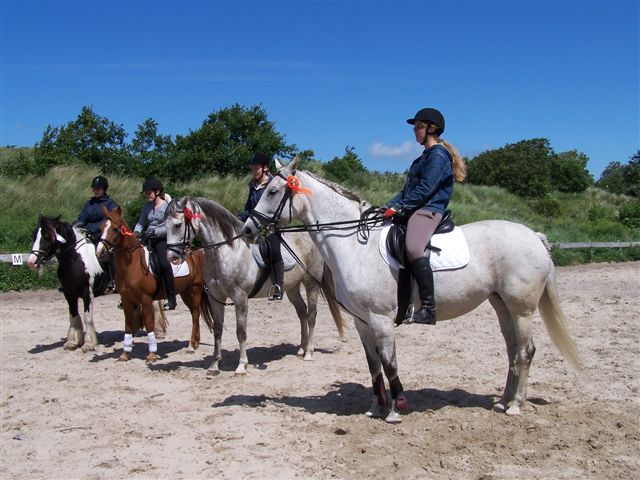 Miranda Bakker

Uitslag: L1 1 Miranda Bakker met Beauty
2 Irene Klabbers met Lynn
L2 1 Anne Noordenbos met Calypso
2 DaniŽlle Bakker met Denver
Laatste les van seizoen woensdag- en zondaglessers
De leskinderen van Zwanny hebben voor de zomerstop geen wedstrijd gehouden, maar een heerlijke buitenrit gemaakt. Helaas werkte het weer niet altijd mee. De helft van de kinderen konden starten met de buitenrit. De kinderen die overbleven gingen eerst een spelletje doen in de binnenbak en daarna een buitenrit maken.
Louwise heeft een stukje geschreven over de lessen.
op ruitervereniging schiermonnikoog is super veel te doen en dat niet
alleen het is ook super leuk.
zoals paardrijden natuurlijk en in zomer kun je paarden huren dat
vind ik zo leuk.
ook de lessen zijn fantastisch en niet saai.
in de zomer zijn er ook bosritten dat is ook al zo leuk.
ik vind alles super,super leuk.
laten we zeggen alles is heel leuk
groetjes louwise

============================================================================
Kiona en Caesar weer op Schier! (19-5-2007)
Aukje Klopstra
In het jaar 2005 zijn er bij de club twee veulens geboren. Op 17 maart 2005 heeft Fleur het merrieveulen Kiona op de wereld gezet. En op 31 maart 2005 kreeg Anouk het hengstje Caesar.
Na een mooie zomer met hun moeders in het weiland te hebben gelopen, werd het tijd voor de veulens om op eigen benen te staan. Kiona en Caesar zijn na de zomer tijdelijk verhuist naar Holwierde aan de vaste wal. Bij familie Eijgelshoven vonden zij een heel goed plekje, waar ze goed verzorgd werden. Inmiddels beginnen het al grote pony's te worden, en zijn het geen veulens meer maar twenters.
Het bestuur vond dat het tijd werd om ze weer naar huis te halen. Op zaterdag 19 mei hebben Henk, Helga en ik (Aukje) ze weer opgehaald, en na een voorspoedige reis mochten de twenters een nachtje op stal uitrusten. De volgende dag moesten ze nog ťťn keer in de trailer voor vervoer naar het Groene Glob, waar ze voorlopig in het weiland blijven staan.
Volgend jaar kunnen we dan beginnen met het zadelmak maken, en hopen we in de zomer op ze te kunnen rijden.
============================================================================
Yvonne geeft 12,5 jaar les op de vereniging (6-4-2007)
Aukje Klopstra
Zaterdag 6 april verzamelden de leskinderen van de zaterdag en enkele bestuursleden zich bij de buitenbak om Yvonne te feliciteren met haar 12,5 jarig jubileum bij de club.
Yvonne wist hier niks van, dus was het een hele verrassing dat er koffie ( voor de kinderen fris) en gebak klaar stond bij de buitenbak.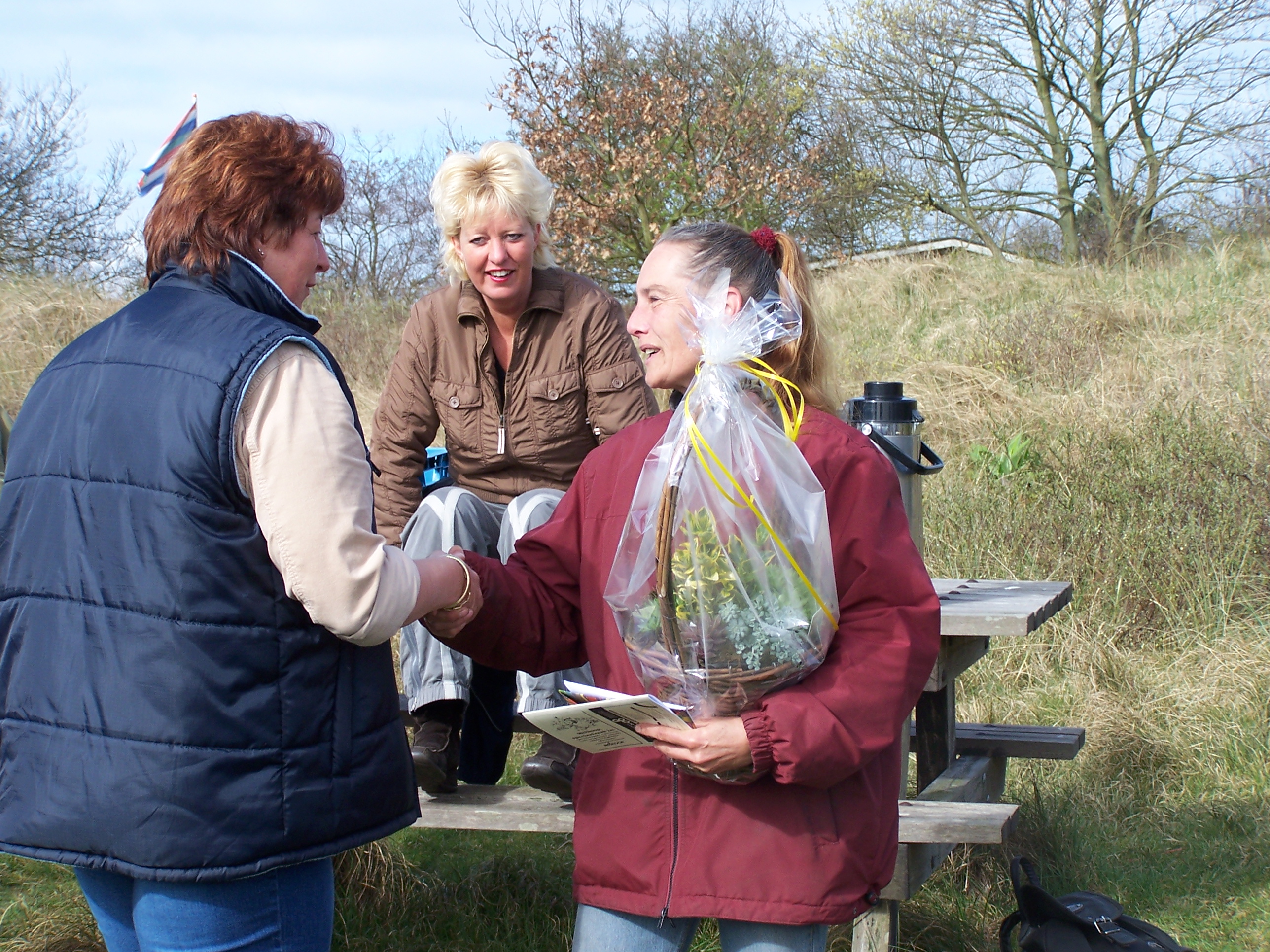 Het bestuur heeft haar een mooie plant gegeven en een cadeaubon van de Divoza, en bedankte haar voor haar inzet om iedere week op zaterdag af te reizen naar Schiermonnikoog om onze kinderen les te geven.
Nadat iedereen iets gedronken en gegeten had, werd het weer tijd om les te geven.
Yvonne had omdat het pasen was een quiz voorbereid, tijdens het lessen moesten de kinderen vragen beantwoorden waarmee ze paaseieren konden verdienen. Al met al een geslaagde dag!
============================================================================